Many know Gujarat for its festivals, culture, and even cuisine. I, however, have always been drawn to the wildlife of Gujarat. Not only is this state rich in wildlife, but many of the birds and mammals found here are unique to the region, or at least best seen here. It wasn't a surprise then, that it took me almost no time at all to plan and book a week-long Gujarat birding tour.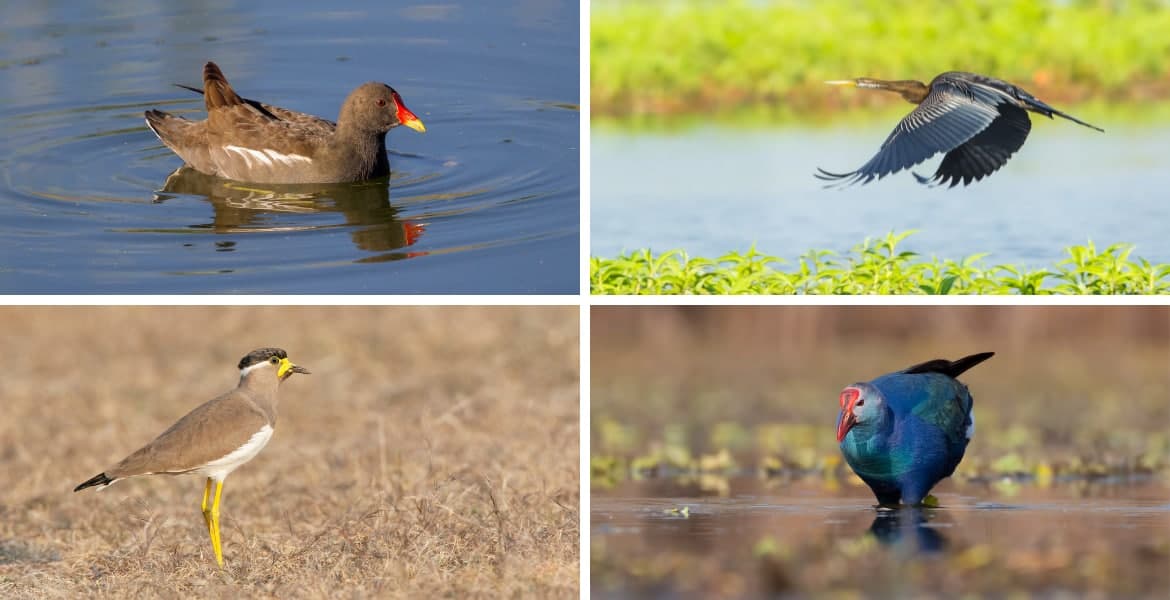 My travels began in the city of Ahmedabad. A hub of culture and history, there is plenty to see here, and one could easily spend a few days exploring the sights, sounds, and even tastes of the city. Unfortunately, I had wildlife on my mind, and traveled straight to Dasada, for some birding in Little Rann of Kutch.
 
The saline desert of the Kutch region looks empty at first glance. Nothing could be farther from the truth, and the numerous birding spots in Little Rann of Kutch will prove this. From Wild Asses to bustards, larks, raptors, and even warblers, this place is full of wildlife, both resident and migratory.  Along the edges are small, elevated, "islands" of Acacia and other bushes called "bets". These are among the best places to see the smaller birds of the Rann and the shy Short-eared Owls. Birding at Bajana Lake, Nava Talav, and many other small lakes, more like small oases, is amazing, as they host a myriad of migratory birds in the winter, including ducks and geese, waders, flamingos, and more. Needless to say, my sighting list for my relatively short stay here was pretty impressive.
From Dasada, I headed the next day to what is perhaps the state's best-known wildlife destination, and the main destination for Gujarat wildlife tours, the Gir National Park. Of course, my main target here was the Asiatic Lion, an animal seen nowhere else in the world. However, my safaris into the park, my time in Gir Birding Lodge, and my occasional village visits taught me so much moe.
I didn't think at all that Gir would be a place of interesting culture, and that it was just another wildlife destination. But that is not true at all. The tribal culture and history around the area are fascinating.

 
The area in and around Gir is inhabited primarily by the Siddi and Maldhari tribes. Maldharis are descendants of nomads and are of various castes and creeds, who spend much of the year traveling as they graze their livestock. The Siddi are an ethnically African tribe, descended from the East African Bantu peoples, descended from merchants, sailors, indentured servants, slaves, and even mercenaries.
 
I would never have learned all these interesting facts had I not taken a little time to see what was around me.
 
From this jewel of a destination, I traveled to Velavadar National Park, or Blackbuck National Park, where my target was the graceful-looking Blackbuck. This antelope has been a dream for me to see, and in my opinion, it is among the most beautiful of India's animals.
But Velavadar isn't just about Blackbucks. The Indian Grey Wolf and the Golden Jackal are the main predators in the park, and I was lucky enough to see both (although the wolves I saw were far off). I also managed to spot a few Jungle Cats, a lifer for me. The birds of Velavadar are also fascinating. Montagu's and Pallid Harriers roost here in great numbers and are a great sight against the dawn and dusk skies. In addition, I also saw many wheatears, larks, and shrikes in the grassland, as well as a large flock of Common Crane along the river.
 
After my amazing week here, it was sadly time to go back home. But the memories of Kutch, Gir, and Velavadar will remain etched in my memory forever.